I had a wonderful opportunity to visit with Maddie Rooney the other day. She is a goalie from Andover, Minnesota who just finished her sophomore season at the University of Minnesota-Duluth.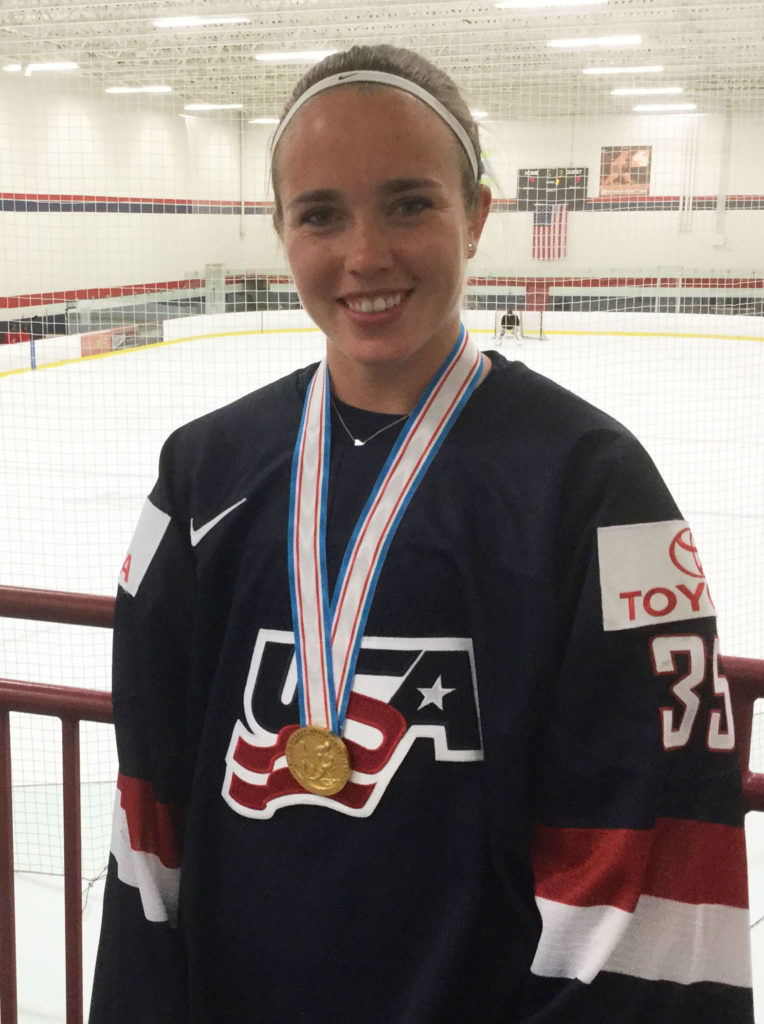 Maddie is taking this upcoming year off from school as she has been named to the 2017-18 U.S. Women's National Team that is preparing for the 2018 Winter Olympics. She is one of three goalies on the U.S. team and the first Minnesota goalie to have a chance at playing in the Olympic Games.
I met her at the Schwan Super Rink in Blaine where she was getting ready to play in a men's league game.
I interviewed her for an upcoming article on Minnesota Hockey's website. As we were visiting, Maddie mentioned that she attended my goalie school when she was a youngster.
She also brought along her gold medal that she won in the 2017 World Championships.
Players and staff for the 2017-18 U.S. Women's National Team will relocate to the Tampa area in early September.
During the residency period in the Tampa suburb of Wesley Chapel, players will train at Florida Hospital Center Ice in preparation for the 2018 Olympic Winter Games in PyeongChang, South Korea.
USA Hockey
As a member of the U.S. Women's National Team, Maddie played in one International Ice Hockey Federation Women's World Championship (gold-2017)
As a member of the U.S. Women's Under-18 Select Team, played in one Under-18 Series vs. Canada (2013)
Attended the 2014 Girls' U18 Player Development Camp, 2013 Girls' U18 Player Development Camp and 2012 Girls' 15 Player Development Camp.
IIHF Women's World Championship
Earned a shutout in her National Team debut in preliminary round against Russia
College Hockey
Sophomore (2016-17)
All-WCHA Third Team
Started 37 regular-season contests for the Bulldogs in 2016-17, backstopping the team to a 25-7-5 record in those games with a .942 save percentage and 1.65 goals-against average
Freshman (2015-16)
Played 19 games for the Bulldogs in her freshman campaign, posting two shutouts en route to being named to the 2015-16 Western Collegiate Hockey Association All-Rookie Team.
Additional Notes
Pre-business major at Minnesota Duluth
Led the Andover High School girls' hockey team to its first-ever Class 2A state tournament appearance in 2014, where she also made the All-Tournament Team and received All-Conference and All-State Honorable mention accolades
Daughter of Michael and Jayne Rooney