UPDATE: I wrote this story a few days before NHL draft in June. Lakeville's Jake Oettinger was taken in the first round (26th overall) by the Dallas Stars. He became the highest drafted Minnesota goalie.
By Steve Carroll
It didn't take long for Jake Oettinger to get hooked on being a goalie. In fact, all it took was one game after he had a chance to strap on the pads with his Farmington, Minnesota squirt team.
"I tried it, loved it and stuck with it," he said. And he eventually would become the go-to goalie for his peewee team that won more than 50 games.
"I liked being able to have huge impact in every game and the spotlight that comes with being a goalie," he said.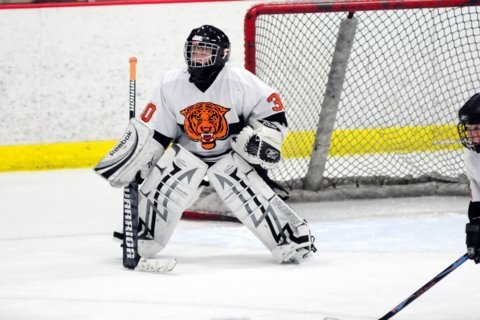 In ninth grade, Oettinger moved to Lakeville North High School where he led the Panthers to a runner-up finish in the State Tournament in St. Paul.
"It was unbelievable," he recalled. "Probably one of the most fun years of my life playing hockey, playing in state is such a cool experience."
After his freshman year, he made the United States National Team Development Program in Michigan, where he spent to next two seasons. And he enjoyed plenty of success on those teams including leading his U.S. squad to a gold medal at the 2015 U18 World Championships.
"It was great," he said. "It was difficult moving away from home, but it was definitely worth it. I'm really happy I went there."And he also excelled in the classroom. He accelerated his academics so he graduated from high school in little over two years.
During his time in Michigan, he had developed into one of the nation's most sought after high school goalies and had plenty of college scholarship offers to choose from.
He selected Boston University. "I went on a visit, loved the city and the coaches, the goalie coach, thought it would be a great fit and it was," he said.
And he quickly earned the starting spot, playing college hockey as a freshman in what could have been his senior year in high school.
Oettinger played in 35 games for the Terriers, posting a 21-11-3 record, with 2.11 goals against average and a save percentage of .927. His outstanding play earned him a spot on the Hockey East All-Rookie Team and the All-Conference second team.
By far his favorite memory from the first season was beating North Dakota 4-3 in double overtime in the NCAA Regional Tournament, before a packed house in Fargo, North Dakota. Oettinger made 56 saves in that game.
Now fast forward to this summer, where the 6-4, 218 pound netminder is now an 18-year-old and a top pro prospect.
According to NHL Central Scouting, Oettinger is the number one rated North American goalie and projected to be picked late in the first round or early in the second round in this weekend's draft.
If that happens, he would be the first Minnesota goalie taken that high in the NHL Draft.
"It's going to be a once of a lifetime experience," he said. "Really excited to have a ton of family and friends with me in Chicago. It's going to be an awesome weekend."
Oettinger has met with every NHL team but doesn't know or care which club will select him.
"I'd love to play for any team," he said.
But regardless of where he goes in the draft, Oettinger plans to return to Boston University this fall.
"I think I have a whole lot of unfinished business at BU, so I don't really know yet when that time will come, (to turn pro). I know it's going to have a lot to do with how hard I work and how good I play."
#GOALIES#