2021 Clinics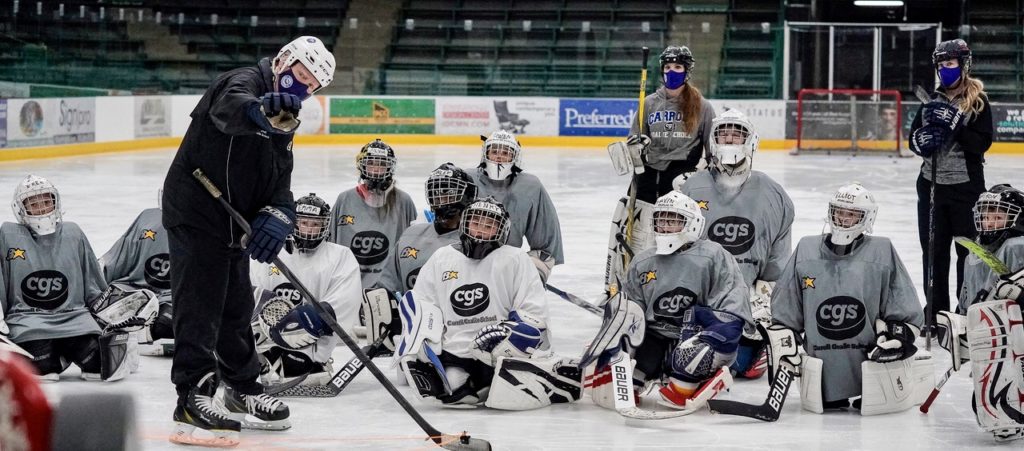 Welcome to the Carroll Goalie School where we have helping goalies improve their individual skills and achieve success between the pipes since 1995.
We are offering four programs – Intro to Goaltending, Intermediate Skills, Advanced Skills, and Tryout Tune-up. As usual, ice times are conveniently held in the evenings and on weekends.
Clinics are set for six arenas in Minneapolis-St. Paul including Super Rink (Blaine), Eagan, Braemar (Edina), Richfield, St. Michael-Albertville and the TRIA Rink (St. Paul), practice home of the Minnesota Wild.
We also are hosting two clinics (Intro to goaltending, Intermediate Skills) at the new RecPlex in West Des Moines, Iowa.
For questions, send an email to: info@carrollgs.com 
There are no more camps at this location

#10 – Tryout Tune-up – Sept. 16, 18-19

September 16, 18-19 St. Michael-Albertville Arena 1 spot available

Getting your goalie ready for tryouts is the focus of this three-day clinic. We'll help them improve their skills, work habits and overall game. They'll feel confident they've gained a competitive edge and are on top of their game to start the season. Six hours of on-ice instruction. Boys, girls ages 8-14.

Topics covered include:

skating skills
lateral movements
save and recovery techniques
hand-eye coordination
angles
rebound control
puckhandling
breakaways

Thursday 6:30-8:30 p.m., Saturday 3:30-5:30 p.m., Sunday 3:30-5:30 p.m.

$450.00 Add to cart

#11 – Tryout Tune-up – Sept. 17-19

September 17-19 Richfield Ice Arena 5 spots available

Getting your goalie ready for tryouts is the focus of this three-day clinic. We'll help them improve their skills, work habits and overall game. They'll feel confident they've gained a competitive edge and are on top of their game to start the season. Six hours of on-ice instruction. Boys, girls ages 8-14.

Topics covered include:

skating skills
lateral movements
save and recovery techniques
hand-eye coordination
angles
rebound control
puckhandling
breakaways

Friday 5:15-7:15 p.m., Saturday 10:00 a.m.-noon, Sunday 10:00 a.m.-noon.

$450.00 Add to cart