Congratulations to former CGS student Sydney Rossman. She recently signed a contract to play for the Connecticut Whale of the National Women's Hockey League.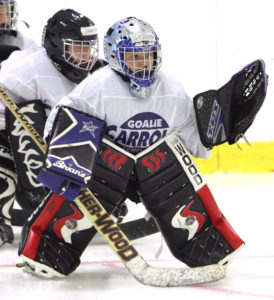 Sydney participated in the Carroll Goalie School early in her career. She would go on to star at Minnetonka High School and Quinnipiac University.
ABOUT THE WHALE
Goaltender Sydney Rossman, a 2016 NWHL Draft pick of the Connecticut Whale and the 2015-16 ECAC Goaltender of the Year, has signed a one-year contract with the club.
"It was a really cool thing to get the contract offer to join the Whale and the NWHL," said Rossman. "I was hoping to play for the Whale this upcoming season, but it wasn't a reality until I got that email. It's really great to continue my hockey career at a high level.
"Since I have teammates and friends on the four teams, I was at a lot of NWHL games in the last two years and was really impressed. The NWHL is all about the opportunity for women in pro sports. I'm excited to get a chance to be part of the league and help build its reputation in this early phase. I'm hoping that a lot of people come out in see us starting in October. I believe this season can have a huge impact on the future of the NWHL, and from here the league will grow stronger."
While playing for the Whale, Rossman will teach her craft to young netminders at Pro Crease Goaltending – run by Quinnipiac's men's goaltending coach Jared Waimon. "I hope to start a program at Pro Crease dedicated to coaching women goalies," said Rossman.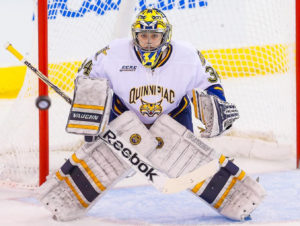 In addition to coaching and playing, Rossman will pursue an MBA at Quinnipiac.
The Minnesota native graduated from Quinnipiac in May with a degree in marketing. In her four-year college career, she was 52-13-11 with a 1.16 GAA and .938 save percentage. She has the school record for shutouts (26) and was selected as a Quinnipiac Scholar-Athlete. During her junior season, Rossman led the Bobcats to the ECAC Championship and an appearance in the NCAA Tournament. She was named the league's Goaltender of the Year and was a finalist for ECAC Player of the Year.
Rossman won three Minnesota State High School Championships with Minnetonka High School. She attended three USA Hockey National Select camps and the USA Hockey U18 Women's World Championship Team camp.