During the winter months, I am the goalie coach for the Gustavus Adolphus College women's hockey team. In late December-early January, our team took a trip to Europe for sightseeing and to play a couple of hockey games. It was an unbelievable experience.
We flew into Munich, Germany and visited the Marienplatz area and ate as group at one of the historic bier halls. Even though we had reservations, seating our party of 65 was no big deal for this place as we ate dinner with several hundred other people who were at the restaurant.
The appetizer included meats and cheeses and the main course was schnitzel and french fries. It was delicious.
From then we headed by bus to Salzburg, Austria. This was the favorite spot for most of the players. They liked scenery and the small town feel. The Christmas markets were still open and the city was all decorated for the holidays.
This also the city where some of the famous scenes from The Sound of Music movies were filmed in Mirabell gardens. We were able to check them out during a walking tour. We also visited a nearby concentration camp.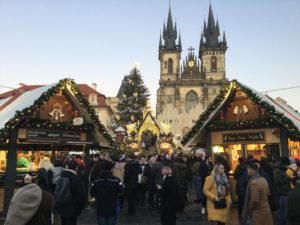 In our first hockey game against the Austrian National team, we beat them 3-2.
From there, we headed to Vienna, Austria, a much larger city.
We went to the Schoenbrunn Castle, visited a local winery and celebrated New Year's Eve in Stephensplatz. It was a wonderful place to ring in 2020.
After that, we headed to Prague in the Czech Republic. There we visited Old Town and the famous Charles Bridge. We also played a second hockey game in that area. It was at an arena that was in the hometown of hockey great Yaromir Jagr. We beat a local women's team 2-0.
Beside schnitzel, other food items included pizza, pasta, fried chicken and duck. The breakfast buffets were something else at the hotels we stayed at. Wide assortment of eggs, sausage, meats and cheeses, breads and pastries. It was a nine-day trip that flew by. So many memories from our trip to Europe.