The Minnesota State High School Boy's State Hockey Tournament is a special time of year. It's always fun to watch the games and see who comes out on top on Saturday.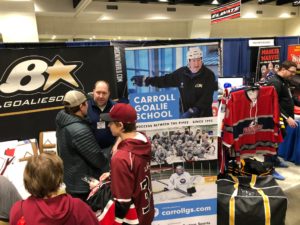 It's also a busy time for the Carroll Goalie School. We are long-time exhibitors at the Let's Play Hockey Expo, which is held in conjunction with the state hockey tournament. The sales rep from Brian's Custom Sports, who sponsors our program, comes to town to show off the latest gear and help goalies with getting sized for Brian's equipment they are looking for, whether it's gloves, leg pads or chest protectors.
During this year's expo, I also had the wonderful opportunity to visit with Mick Hatten from the Rink Live.
We recorded a 30-minute interview live from the Expo. We discussed all kinds of hockey topics including my playing days in Edina, what it was like playing for legendary Coach Willard Ikola, winning the NCAA title at Minnesota State and my work with the goalie school.
It's was fun to share some stories with Mick and I certainly appreciated the opportunity to be on his show.