This was a fun goalie reunion. Years ago, a young boy by the name of Dominik came to my goalie school as a 6-year-old. Even though he was new to the position, you could tell he was into it and he had a grand old time. Turns out, it was the only opportunity I had to work with him during his youth hockey days.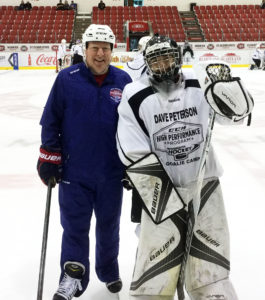 Now fast forward to August 2017. Dominik and I are reunited on the ice in St. Cloud. He earned a spot at a goalie camp I was coaching at. It was great to see him after all these years!
Dominik is going to be a sophomore in high school this fall. It's fun and rewarding to see goalies who I have worked with grow up, continue to develop their goaltending skills and love the game of hockey.
I wish him continued success!