About 50 of the state's top high school goalies participated in the 10th Minnesota Hockey Dave Peterson Reebok High Performance Goalie Camp in late July at the Super Rink in Blaine.
The four-day goalie development program, now in its 10th year, is designed to improve the individual skills, techniques and consistency of boys and girls in the 15-to 18-year-old age group.
Goalies were invited to participate in the camp based on their performance in the USA Hockey/Minnesota Hockey Reebok High Performance festivals.
I am USA Hockey's Minnesota District Goalie Coach-in-Chief and have served as director of the camp since I created it in 2005.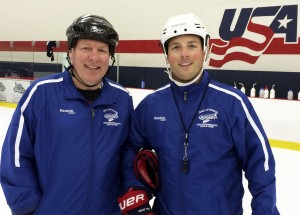 It's an excellent, upper level learning experience for these goalies. It intense, challenging, and a fun weekend. Each year, the goalies work extremely hard at improving their individual skills.
This year's camp featured a special guest instructor – Kevin Reiter, goaltending coach, USA Hockey, National Team Development Program, who came to the camp from Ann Arbor, Mich.
I had the opportunity to work with Kevin during the two days he was in town.  I learned a lot from him including some cool drills that I will incorporate into my upcoming camps.
Kevin told me he really tried to stress how paying attention to even the smallest detail really adds up to a goalies overall performance. The goalies took the constructive criticism well and asked questions about certain situations and how they should be played. That showed me that they were engaged and wanted to learn and get better."
Also helping this year was Justin Goldman, regional scout and mentor for USA Hockey's National Team Development Program. He compiled several video clips of the participants.
Goldman and Reiter were part of the staff that featured an impressive list of Minnesota college and high school goalie coaches.
That group included Mitch Baker, Bethel University women's team; Steve DeBus, Hamline University women's team; Justin Johnson, University of Minnesota men's team; Mike Moline, Park-Cottage Grove High School girls team; Greg Moore, St. Mary's University women's team; Tom Peart, Totino-Grace High girls team; Jeff Polski, St. Catherine's University women's team; Bob Rajanen, Red Wing High School boys team. Other youth hockey goalie coaches who helped were Kevin Galbraith, Alyssa Grogan, Bill Manual.
"For me, it was a great experience talking and learning from the instructors who coach at various levels of the game," Reiter said. "They picked simple drills that directly translated to game situations. The simplicity and repetition made the camp valuable for participants. The goalies definitely left the camp smarter and with a better skill set."