I was recently invited to give a presentation on goalie development to more than 300 high school and youth hockey coaches who were at the 2017 State Of Hockey High Performance Coaching Summit. The two-day event was held in the Roy Wilkins Auditorium – River Centre in St. Paul.
Following my hour long presentation, participants headed to the Xcel Energy Center for an on-ice demonstration session. And it was cool to skate  at the X for the first time.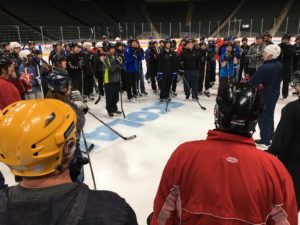 On the ice, the coaches were divided into three groups and rotate between the stations. I ran the goalie development station. We discussed various aspects of goaltending including angles and goalie-specific skating techniques.
It was a lot of fun.