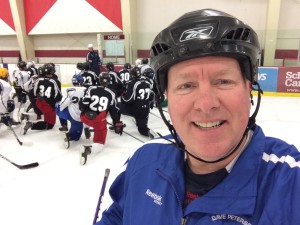 I was invited to work with four of the state's top 15-year-old goalies in early July at the Schwan Super Rink in Blaine. These were selectees and alternates for the 2015 USA Hockey Boys Select 15 National Player Development Camp in New York.
I provided goalie training during Minnesota Hockey's pre-national training camp, which was specifically designed to prepare the players to compete at the national level. It was a three-and-half-day camp and I was given time during each of the practices I was at to work at one end of the ice with the goalies.
We worked on improving their goalie skating and crease movement skills along stopping pucks and controlling reounds in various situations. The boys worked hard and asked good, detailed questions. You could tell they were not satisfied with the level they were at and were determined to get better each and every time they were on the ice. And each one of them did.
I made suggestions to each of the goalies that they immediately incorporated into their game. Suggestions included altering their glove hand position, having patience so they didn't drop to their knees without a purpose, playing at top of the crease and to keep their stick on the ice when moving laterally.
What I found interesting was that one of the goalies told me he had never had any formal goalie training before the time I spent with him. He simply relied on his athletic ability and instincts to get the job done.
It enjoyed the opportunity to work with these talented goalies and look forward to tracking their progress.