The day after Thanksgiving, the Gustavus women's hockey boarded a plane for a trip to Montreal, Canada and a van ride to Plattsburgh State to play in a four-team tournament.
Upon arriving in Canada, we encountered a few travel issues. First, some of the luggage didn't make it to Montreal right away. It would ultimately be delivered to our hotel in the next 36 hours.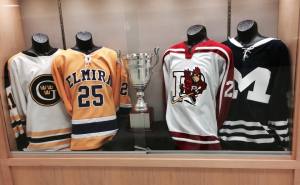 The next issue we had to do with making the 90-minute van ride to Plattsburgh State. I was driving one of the five team vans. Shortly after leaving the airport, i realized we were lost. The traffic signs were in French and we were traveling during a busy rush hour.
At that point, I pulled into a gas station in downtown Montreal. The workers at the station were not interested in giving us directions, I think mainly because they didn't speak english very well.
However, some of the customers in the store were much more willing to help us out and gave us the proper directions to get to Plattsburgh.
The following night we played number one ranked Plattsburgh State. After trailing 4-1 late in the third period, the Gusties put together an incredible rally and scored three times in the final seven minutes to force overtime. We played a scoreless extra session and lost in the fourth round of a shootout.
The next day we played Middlebury. Again, the Gusties battled to tie the game late and force overtime. This time, they beat us in the overtime by the score of 3-2.
Overall it was a great experience, one that should help us down the road and as we resume conference play.