Minnesota Hockey and USA Hockey have announced they will cooperatively host a High Performance Goaltending Coaching Workshop from 1:30-8:30 p.m. on Sunday, Dec. 18 at the Brooklyn Park Community Center. The workshop is designed to teach youth hockey coaches of all skill levels how to effectively work with and develop goalies.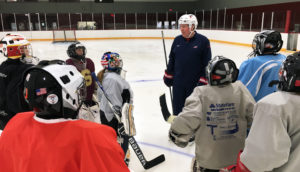 The clinic will include a series of classroom presentations as well as an on-ice session where participants will observe demonstration stations and get a chance to try various goalie-specific skating movements.  Coaches should bring skates and gloves and must wear a helmet during
the on-ice session.
Scheduled presenters include:
Phil Osaer, USA Hockey's ADM Goaltending Manager
Mike MacMillan, USA Hockey's National Coach-in-Chief
Steve Carroll, Minnesota Hockey's Goalie Development Coordinator
Justin Johnson, goalie coach for the University of Minnesota men's hockey team.
The workshop is open to registered USA Hockey coaches of all skill levels.
REGISTER NOW
Click here to download the paper registration form. Pre-registration is required.
The High Performance Goaltending Coach Clinic is the latest in the series of initiatives focused on boosting the recruitment and development of goaltenders in Minnesota.
This summer Minnesota Hockey purchased 300 sets of the newly released QuickChange goalie pads, which are designed to introduce more players to the position.
Then, Goalie Development Coordinator Steve Carroll hosted eight goalie skill sessions in September. This coaching clinic brings the initiatives full circle by providing coaches throughout Minnesota with the tools and resources to help young goalies reach their potential.