Hard to believe, but it was 35 years ago this month that the U. S. Olympic hockey team captured the gold medal in the 1980 Olympic Games in Lake Placid, New York. Every hockey fan remembers where they were during those Miracle on Ice moments. I recall watching the games from my college dorm room at Minnesota State, Mankato.
And it was quite a thrill for me to actually meet one of the heroes from that game. I had the opportunity to meet and have my picture taken with goalie Jim Craig when he was in town recently.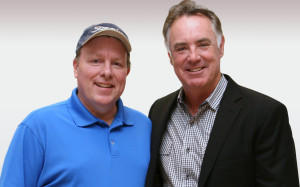 Do you know that in March of 1979, USA Hockey actually held open tryouts for the 1980 U.S. Olympic hockey team? Even though most people felt Coach Brooks knew who he wanted on his team and had a very good idea of where those players would be coming from. Highly unlikely that Coach Brooks would gamble on taking a random player from an open tryout.
None the less, me and some of my Minnesota State hockey teammates thought it would be cool to say we tried out for the Olympic team. Open tryouts were held in Minneapolis, Detroit and Boston.
A bunch of us registered for the tryouts in Minneapolis. Turns out, our team qualified for the NCAA Division II National Tournament, which was held about the same time as the tryout in Minneapolis. We contactedorganizers and asked if we could switch to the Detroit location.
They told us no, but said they would have scouts at the national tournament. If anyone caught their eye, they would be receive a special invite.
At the national tournament I made 59 saves in our semifinal game and another 42 in the championship game. 101 saves in two games. Not bad, but guess what, not good enough to win the national championship or to get a special invite to the open tryouts in Motown.
Not that I figured I had a shot at making the team, but it would have been fun to say that I at least had a chance to tryout for the club.