In my 14 years as goalie coach for the Gustavus Adolphus women's hockey team, I don't think I have ever experienced a more emotional locker room than I did today following our team's 3-2 win over Augsburg.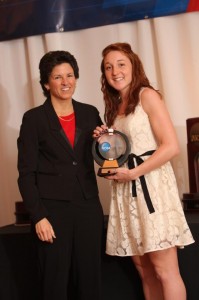 The tears were flowing because it marked the final time one of our players would be in uniform as a member of the team.
Goalie Marah Sobczak, who made a remarkable and inspirational return to the ice last fall after being involved in a serious car accident two years ago, recorded the win in her last game as a Gustie.
She begins grad school this week at the University of Minnesota to start work on her master's degree in civil engineering.
Marah is a physics major. When we were playing in the 2012 NCAA National Tournament, she won The Elite 89 Award, which is presented to the student-athlete with the highest cumulative grade point average among participants at the finals site of each of the NCAA's 89 championships.
She has also been an instructor as the Carroll Goalie School and helped as a counselor at Minnesota Hockey's Dave Peterson Reebok High Performance Goalie Camp.
I have enjoyed being Marah's goalie coach. Her positive can-do attitude, work ethic, desire and determination are unreal. I wish her continued success as she begins a new chapter in her life.